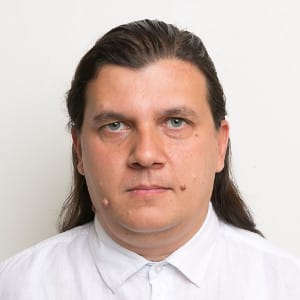 Dr. Pavlin Dobrev
Dr. Pavlin Dobrev is a Research and Development Manager at Bosch Software Innovations. The company owned by Bosch is focused on developing software for the Internet of Things (IoT). He is charge for the Quality Management of the Bosch IoT Suite, the entire support of ISO 9001, ISO 20000 and ISO 27001 at Bosch Software Innovations, as well as various research and customer projects.
Dr. Dobrev has more than two decades of experience with IoT including latest Java technologies, as well as in OSGi and embedded systems. He is an active participant in the OSGi Alliance, Java Community Process and other technical standards groups. He is a member of the Eclipse Foundation and participates in the development of the Eclipse IDE as a committer in the Equinox project.
Pavlin Dobrev has a PhD in Computer Systems in the area of Knowledge Management from the Institute for Parallel Processing, Bulgarian Academy of Sciences and holds an MsC in Computer Science from the Faculty of Mathematics and Informatics of Sofia University. He has written many scientific and technical publications and participated as speaker in prestigious international conferences.
Prototyping platforms for any IoT use case
Internet of Things is becoming the heart of more and more projects. Each IoT project starts with a PoC prototype. This workshop will walk you through what a prototyping platform is and how it impacts the development of a project. Using the Bosch XDK, we will go through what such a board offers as sensors, connectivity, functionality and extensions and interesting examples from the real world. Bosch and Zuhlke developed the platform to encourage community development and open source coding thus we will see some live coding on the stop.
Internet of Connected Everything
Connectivity is transforming all kind of domains – not just smart homes but also industry, buildings, agriculture and mobility. IoT has finally reached the corporate sector and is now being increasingly commercialized. As predicted Bosch alone already has more than 50 million of connected devices! . In 2025 all our products either possess intelligence themselves, or AI will have played a key role in their creation.  In their keynote address, Dr. Pavlin Dobrev and Kai Hackbarth traces Bosch's evolution to an IoT company.  We will dive into the reference architecture for IoT domains like connected building, retail, smart architecture. For Bosch, Things are the most essential part in IoT. We design them to the requirements of IoT: Aware, Autonomous and Actionable.
Key findings:
Bosch transformation from a traditional manufacturer to an IoT and high-tech company: Challenge accepted
Innovation is part of our DNA
Bosch embraces sustainability:  climate neutrality worldwide by 2020 and new solutions for better air in cities
Nobody can do IoT alone: IoT platforms, software, and developers
The impact of open source and agile organization